This post is only around a year late. I've recently done this trip from Melbourne to Canberra to visit the family for Christmas and, whilst taking happy snaps this year (well, 2016), realised I had misplaced the photos I'd taken last year (well, 2015). Turns out they were sitting in a folder on the desktop of my (now disused) Vaio Duo.
Anyway, the annual pilgrimage includes a stopover in Cootamundra. I've now stayed at the Cootamundra Gardens Motel three times and have never been disappointed. Coota heats up during the day and the motel even has a pool! You're also in ear-shot of the railway and level crossing on Gundagai Road.
Cootamundra is a great spot to stop. It's the junction of the "west" line to Parkes and the "main south." You get grain trains frequently as the station precinct includes grain storage facilities. You also get the east-coast steel trains and intermodals. There's the XPT and also the Griffith Xplorer (when they're running.) As I mentioned, it also gets very hot, so sunlight usually isn't an issue... also, there's the occasional thunderstorm at this time of year, so the backgrounds can be quite picturesque.
Speaking of picturesque, there's a lot of great photo opportunities to be had in the area...
Jindalee
Heading North out of Cootamundra, you'll cross the railway and then hit the 100 km/h zone. From here, you run parallel with the railway until North Jindalee Road. Turn left into North Jindalee Road then then left again into West Jindalee Road. This is a dirt road that happens to cross the railway where it deviates to negotiate the climb to Wallendbeen. From this bridge, if you're willing to drag your car over the dirt track (which is actually in great condition), you get a great view of the curves on both sides.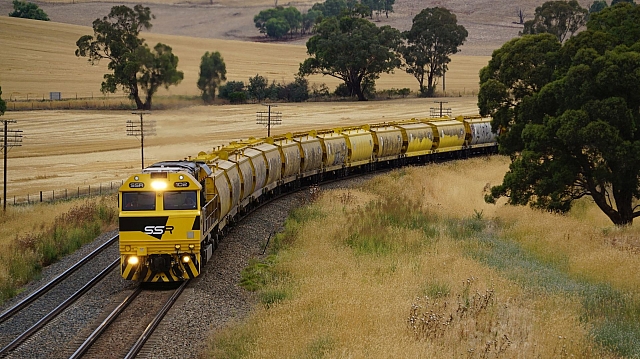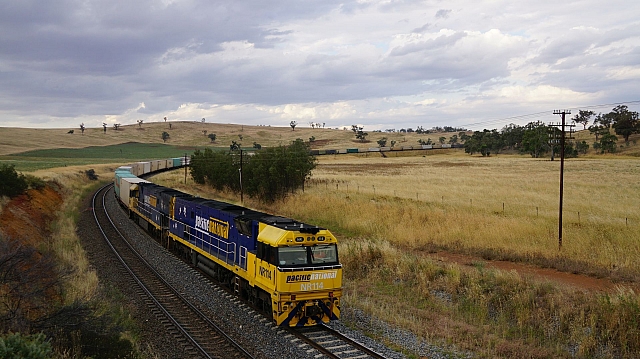 Between Jindalee and Cootamundra
There are numerous level crossings along the stretch where the railway line parallels the highway between Jindalee and Cootamundra. Most of these are private property driveways, so be courteous and do not overstay your welcome.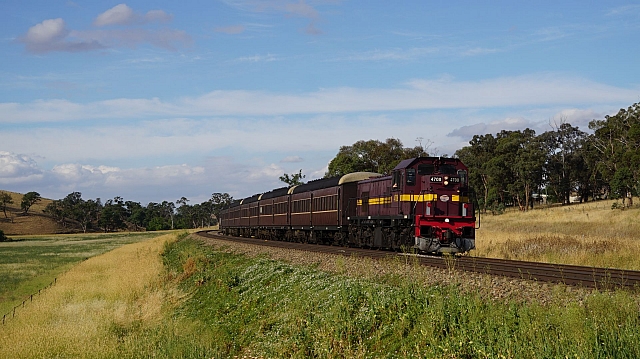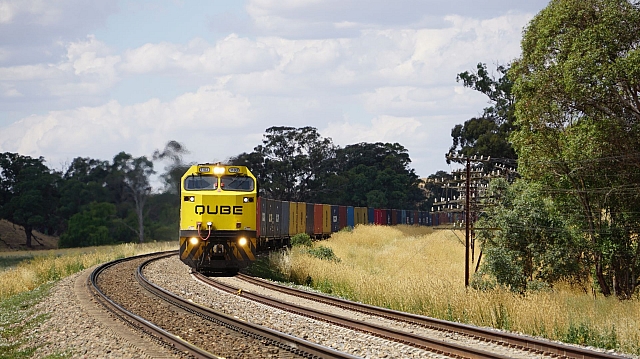 Berthong Road Level Crossing
From Cootamundra, take Temora Road north. Once in the 100 km/h zone, take the second right turn. It's a cross-roads and, after turning right, you'll quickly come to a level crossing with ample space to park. Berthong Road provides a great location to get south-bound trains at any time of day. It is also a great place to get north-bound, but the lighting is better in the evening.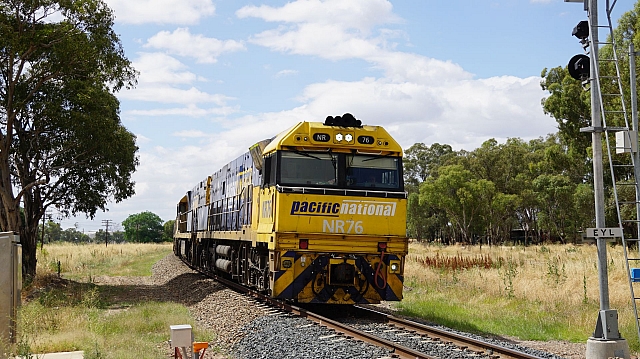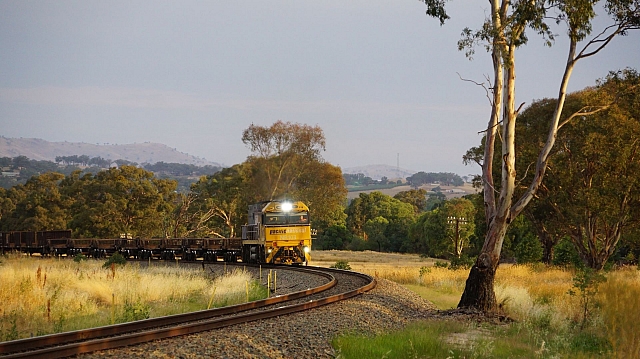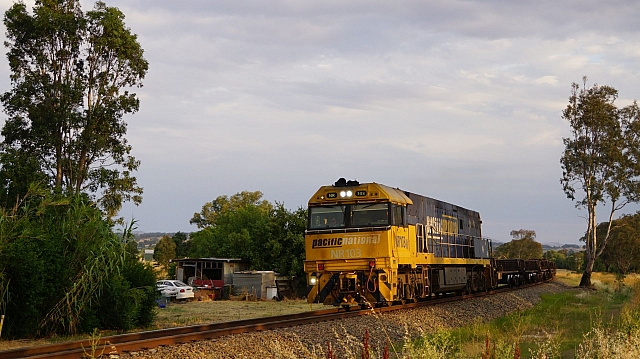 Bob Dear's Crossing
I don't know who Bob was, but just east out of Cootamundra is a fully equipped level crossing. You can get a good angle from below track-level on west-bound trains.
North Bethungra Level Crossing
When approaching Bethungra from Cootamundra, the highway crosses the rails just north of the spiral. This location provides a great view in both directions; just make sure you choose the right side before the lights start flashing.
Bethungra Spiral
This helix was created to enable heavy trains to climb the gradient what was too steep for a straight run. The south-bound track doesn't run the loop, only the north-bound track does. The basic idea is that the track is constructed in a loop that gradually inclines, allowing trains to keep speed and climb at the same time. Tunnels are used to allow tracks to cross.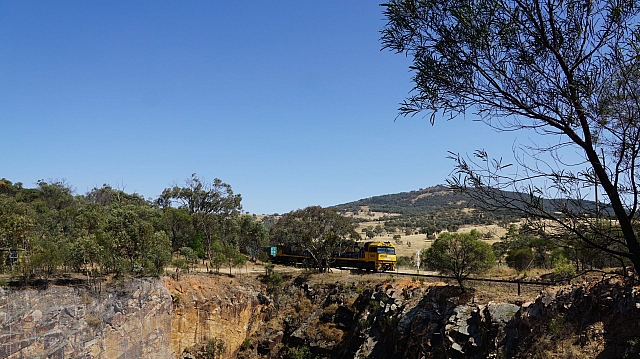 There is an access road (look for the Bethungra Waterworks sign) that will take you up to some amazing vantage points. Trucks and other machinery often use this road, so please make sure you park your vehicle out of the way!
Junee to Harefield
Junee is another junction-town like Cootamundra. It also hosts a range of accomodation and constant activity. There's a roundhouse also, which has a miriad of rollingstock hanging around in various states of (dis)repair. Qube has recently been running shuttles out of Junee to Harefield to build their consists which then run to Melbourne and Sydney. The rail from Junee to Harefield is relatively straight, but has some great curves mid-way.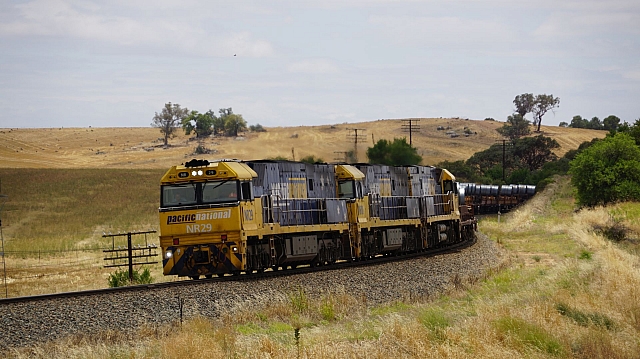 Fortunately, you can then cruise down the highway and meet any train again at Harefield itself. There's usually always activity here with a train being loaded or shunted.
So, this was 2015... I've got a wad of photos from 2016 to post now... but I'll let this lot settle first.