I'd never been to Japan in summer and therefore never been to the beaches. This area just west of Tokyo is stunning. The only issue at this time was a typhoon off the coast, preventing us from swimming. Fortunately we did get to get our feet wet.
JR East runs the line from Tokyo through to Izu, half way down the peninsula. From Izu, the Izukyu Corporation runs the Izukyu Railway which takes you right down to Shimoda. Fortunately, the JR (Super View) Odoriko services run on the private lines and will take you to the very end.
Odoriko Service
These are great trains, fast and efficient... clean too. If you happen to get a Super View, then the scenery is fantastic. They book out in summer though, so be quick. When booking you'll be able to choose the mountain side or ocean side. The ocean side seems popular, but the mountain side is fantstic also!
The beer on tap was a nice touch!
Shimoda Station
Once at the station, it's the end of the line and most passengers disappear off to seaside resorts for well-deserved getaways. I hung around for a little to soak in the view.
The corner before the approach to the station provides a nice view of an evening. As per usual, the Japanese scenery is lush and green. An easy choice to model a railway on!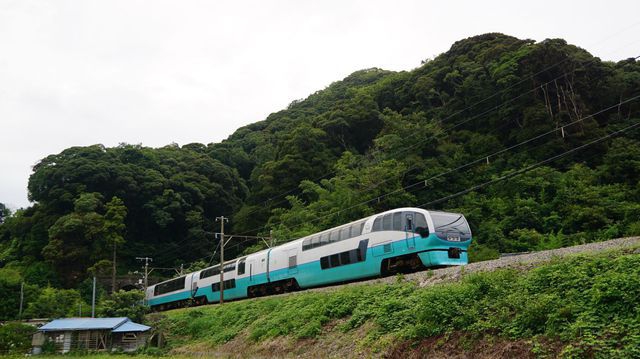 I even happened to find an exact model of my car! This is the first functional instance I've seen in Japan. Not bad for ~30 years old.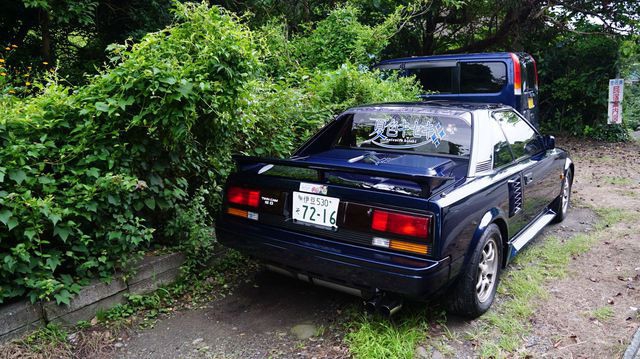 Back at the station, the yard had a few interesting things to see. There was an inspection vehicle resting on tracks perpendicular to the actual line. Do they use a crane to get it on?
Not the best lighting, but most days were spent out at the beach! Still, the yard was quite picturesque with nice sized EMUs waiting for their next gig.
Marine Odoriko
On the last day, the plan was to ride this home. It's the Odoriko service run by the N'EX consist. Has a special headmark and all. Turns out that I got Hyperdia wrong and we turned up to find the old-school 185 series (not complaining!) to take us back... so much charm. Fortuantely, on the day before I managed to see the Marine Odoriko shunting for its next service.
The photos are of poor quality... I'd not had my camera on me. But you can just make out the 'anchor' headmark on the front.
And that was a wrap. Great location for a beach holiday!