This is another public service announcement. I've just wasted around 3 weeks trying to burn an EPROM which shouldn't've taken more than 1 minute. I purchased a Willem Parallel Port 5.0 PCB burner from eBay (cheap, I know) and although I could happily read chips, I couldn't write them.
The settings were correctly configured for the M27C256B chips. You need 6.2v to write and 12.75v external. This means you can't use the USB to power. This PCB 5.0 is dual power, so it should've selected the correct source.
Every time I tried to burn I got the following error: Error at 0x000000 chip = 0xFF buffer = 0x58. Note that all three of those values would change, a lot. 0x24 and 0x46 were frequently seen yelling at me.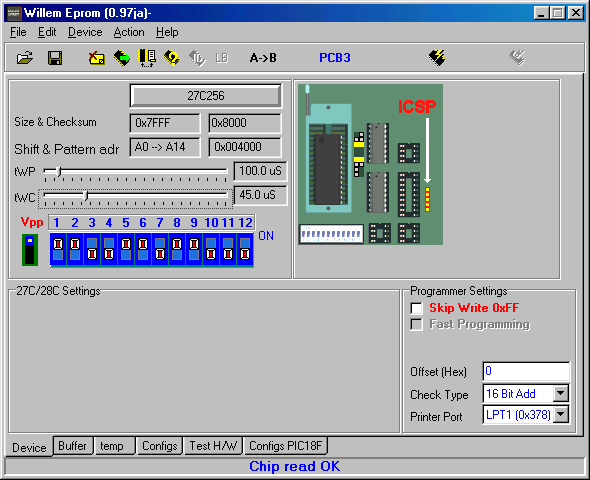 Turns out that the 'latest and greatest' version of the software doesn't select the correct power source. Downgrading to 0.97ja (as per the screenshot above works fine.)
So if you're getting the errors as I was above, then use the 'alternate' version that should be on the driver CD that you were provided with.