Whilst browsing the usual Vintage Computing column on eBay, I came across a naked computer. The seller described it as a functional 386 with RAM, CPU and all cards/cables; but no disk drives. No real issue there as I had the missing components at home.
Upon further inspection, a few of the cards caught my eye. They were all 8-bit ISA and had huge IDC headers on them. One had 4-in-a-row internally and another had one on the rear plate. These seemed to be I/O controllers, and so I endeavoured to win the auction.
Once everything arrived, I asked a few more questions and was told that this rig was initially in a corroded standard PC case (of the time) and had a large quantity of ribbon cables hanging out the back. This makes perfect sense as each of those headers would fit a 50-pin ribbon cable, and four of those hanging out the back would take up a lot of space. I was then told that the machine was used at the Siding Spring Observatory. Who would've thought that a random 386 would have so much history!? No wonder they needed so much I/O!
I googled for images of internal computer systems at the observatory, but couldn't find any pictures of anything resembling this machine. Here's some links: The 2.3m Advanced Technologies Telescope at Siding Spring Observatory, Anglo-Australian Telescope control room, 40 Years of the Australian Astronomical
Observatory and The Anglo-Australian Telescope and Siding Spring Observatory.
The Loot
386 Motherboard
ELTECH 386
ELT-386B
Cyrix 387 FastMath Coprocessor
Very OEM-looking board, but turns out to be a popular brand back in the late 80s. This is nearly the board, but it seems like there is very little information. There are some brochures on the machines! It gives you a good idea as to what the case used to look like.

8 SIPP modules installed. These have pins, instead of an edge-connector, connecting them to the motherboard. Very difficult and fragile to deal with!

The EEPROM was oncovered to start with and the sparkly internal chip was visible. I'd not exposed it to direct sunlight, but I was worried for it's 1s and 0s! The battery was also in an awful state. This was removed and cleaned up post-haste.

16-bit Controller Card
PRIME 3B MKII
Nothing special about this card...just your standard ISA 16-bit controller with all cables and ports provided for.
16-bit VGA Card
ZPVGA REV:B
ZTECH Electronic Corp
Licensed by WDC
Really nice 16-bit VGA card. Seems to be a clone (or produced under license) of WDC.
Axiom Tech AX5210 A/D Interface Card
8-bit ISA bus with 50-pin IDC male port.
16 analog/digital inputs.
8 Digital-only inputs.
8 digital-only outputs.
This thing looks awesome. At first I thought I'd have trouble with connectors, but it uses a standard SCSI 50-pin IDC connector! There's a lot of documentation and (thankfully) the source code online too!

Acceed.net product information page
Acceed.de product information page
Driver pack with sample code!

8-bit ISA I/O Card
All cabling internal.
Small slot under backplane to allow ribbon cables through?
4 50-pin IDC headers.
This thing is huge. After investigating the ICs I can see that there are 8 74LS244Ns that run to the 50-pin IDC ports. Therefore I'm guessing this is a 64-bit I/O card. Programmable as well. Maybe similar to this. Zero documentation online, but I did find another going on eBay for over AUD$100!?
8-bit ISA I/O Card
DECISION-COMPUTER
DECISION 9012-1
2 PORT 422/485 I/O CARD
Startech Semiconductor Corp (on chips)
PLC 37-pin Female Socket
Not much online for this one either. Seems to be a 2-port RS422/485 serial card? Not overly interesting as I have nothing else for it to talk to! Here's a datasheet of the major ICs on board (ST16C550CP).

Actually, Here's the link to the exact card.

AT Power Supply
TERVAN PTY LTD
"INSTALLED 29 JULY 2004"
"FAN REPLACE 25 JAN 2011"
This power supply has, relatively recently, been maintained? Does that mean that this machine was still operational at the Observatory right up until (or past!) 2011? Amazing usage of the rule don't-fix-what-ain't-broken!
Quick POST Test
Yes, the age-old Power-On-Self-Test-Test. Just like the ATM Machine. Not all of us know English. Anyway... removed the battery, cleaned the area of residue and thankfully there was no corrosion! The motherboard was inspected. The power supply was too.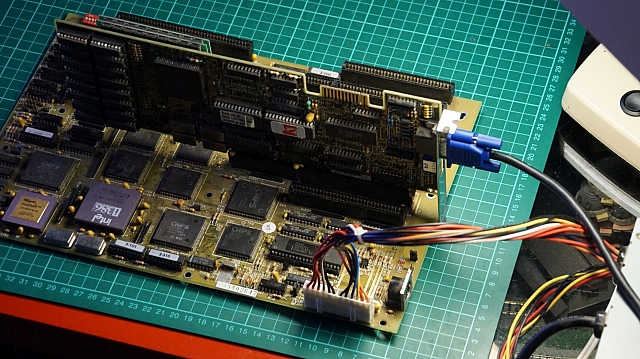 All received a brief clean and then the machine was assembled on the workbench with the VGA card installed.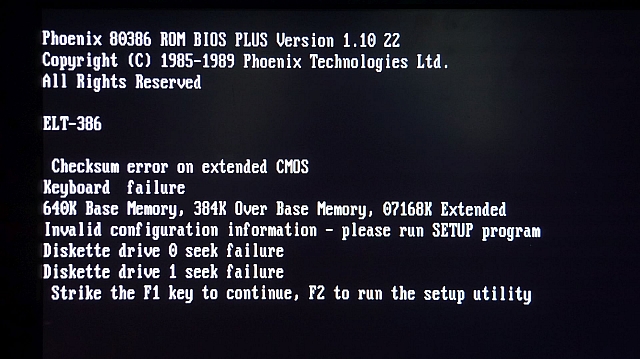 Ta-da!