Searching through eBay, I was hoping to come across a nice Creative Sound Blaster card. Actually, I found two AWE64s up for grabs... 2 hours left and I was winning the auctions at around $60 a pop. I had mixed feelings as to whether or not I'd actually win them and it turned out my hunch was right: they both went for well over $350 a piece... way out of my price range.
After a little more searching, I came across a merchant in Australia with a large collection of random ISA cards. There were some sound cards, but none of the brands were really well known to me. I saw an Ensoniq or two, but I went budget (more budget than Ensoniq) and opted for the cheapest card in the range. This happened to be a Magic S23A with a Crystal CX4236B-XQ3 chipset. It seems that Crystal offered their chipset to a bunch of manufacturers and that this card could have actually come from Acer, but there is no official branding on the card.
The card was grotty, but otherwise OK in electrical condition. I gave it a good wipe down with some alcohol swabs and it came up well. The capacitors all seemed OK... but I recorded their values in preparation to replace them. Physically installing the card was straight-forward; the only notable mention was that I shifted the VGA card to the lower of the two ISA slots so that this card (if it was in the lower slot) wouldn't interfere with my CMOS battery hack.
Software
Vogons has a great selection of drivers for this card. Knowing which driver to use is slightly confusing as all chipsets mentioned start with CS instead of CX, but it turns out they're all compatible.
I first tried the v118 driver from this package. All worked perfectly in DOS, but the I couldn't get the Windows portion to work at all. The setup application installs the drivers for you and edits your system.ini, but on boot VSNDSYS.386 throws a nasty error.
I then tried the CX4235 Driver at Vogons, installing it over the top of the driver above. DOS games still worked and Windows did too. But, each time Windows started the mixer dropped all volumes to silent. I had to run the CWDMIX DOS mixer (the latter driver came with no Windows mixer) to re-set the volumes and then things worked. Saving those settings as default did not help as the mixer would set in DOS at startup but then re-set to quiet as windows loaded.
I had no investment in the current Windows installation and so I started again with a fresh install of DOS and Windows. I then installed the CX4235 driver and it all worked perfectly. Still no mixer in windows, and therefore no software volume control, but I had an external one on the Creative speakers anyway.
After a bit of testing, I quickly found out that one channel was distorted/inconsistent/patchy. No amount of external cabling jiggling would fix it. The speakers were also a new acquisition, so it could've been them (they were only $10 at an op-shop), or the card. Trying to determine which was about to get tricky.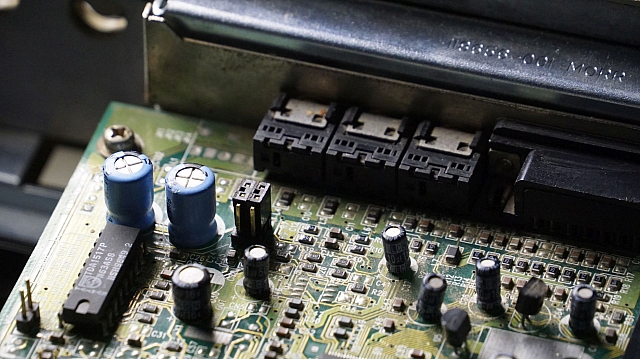 Fortunately, I had the case off the computer and I gave the internals a nudge. Turns out that double-jumper setting for Line/Headphones output was the issue. One of the jumpers was not seated correctly and forcing it downwards enabled the second channel correctly. I shut the machine down, removed the jumpers and gave the whole lot a good clean. The card is now performing very well.
I'd never heard of Crystal Semiconductor, but I'm happy with the card after getting the drivers correct!